【https://saymine.com/】Review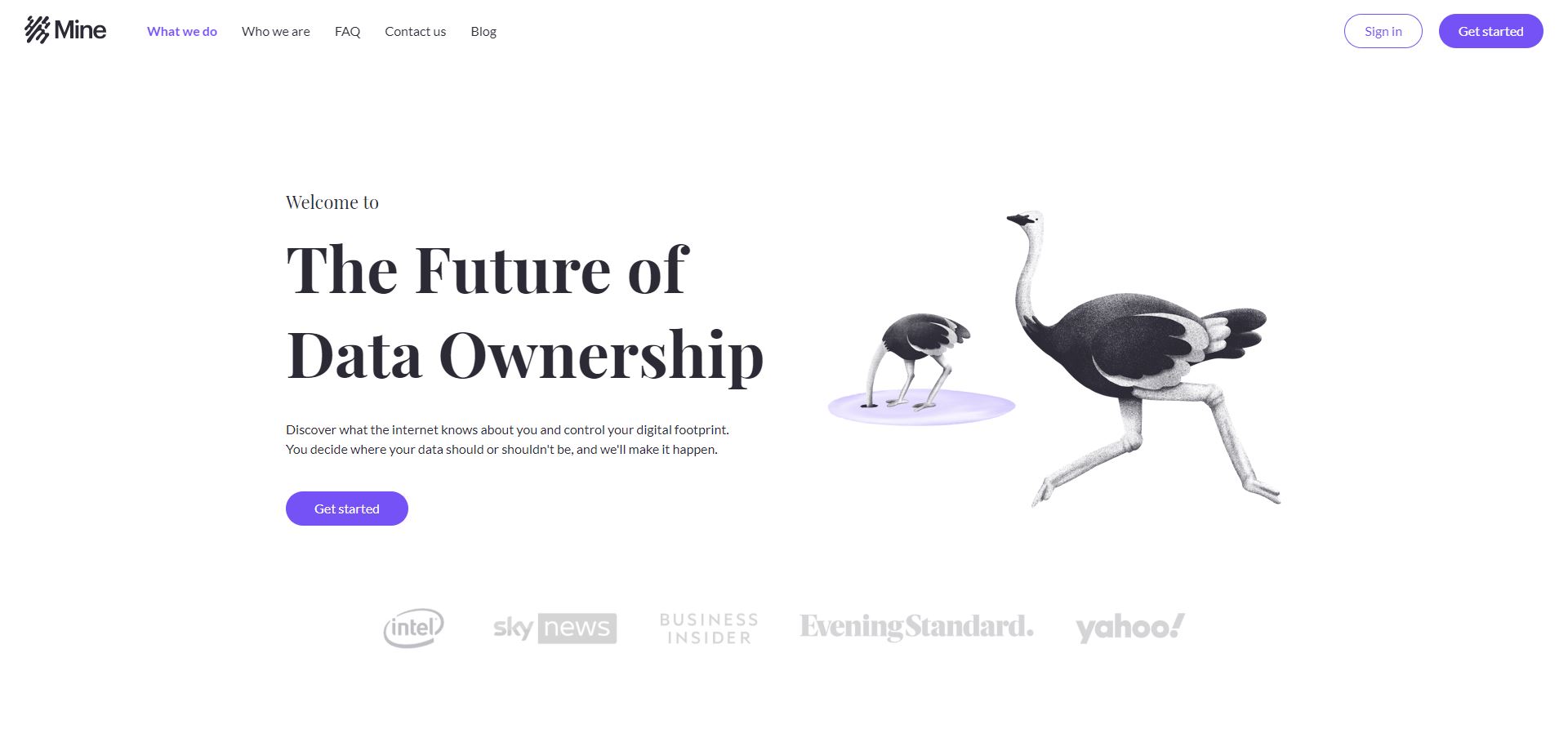 Table of Content
What is 'Mine'?
How Mine Works
Review
Conclusion
As of April 2020, 60 percent of the global population were accounted as active internet users – about 4,570,000,000 people. Since 2000, the use of internet surges more than 1100% and the number is still growing too. It is now easier than ever to get information on anyone and anywhere– just type in a few letters in Google and Voila! There you are on Facebook, Instagram, Twitter, etc. Along with this internet boom, the concern about data privacy also rises.
Since your information is connected to the internet 24/7, many people have raised the question of whether the information is being stored or used without one's knowledge. As a result, many countries have raised the topic of data protection to public awareness. In 2014, the European Union established The General Data Protection Regulation (GDPR) which gives individuals the right to ask organizations to delete their data. It is also commonly known as the 'Right to Be Forgotten (RTBF)' or 'Right to erasure'.
What is 'Mine'?
Mine or saymine.com is an Israel-based startup platform that aims to track down your digital footprints and help exert data ownership rights to users. Generally, the platform functions as a tracker and sends out 'Right to erasure' mails to websites you do not want your information to be stored. For now, the system is free and works with Google, Yahoo, and Microsoft accounts. In this article, I will try this interesting new platform and find out if it is what it claims to be – The Future of Data Ownership!
How 'Mine' Works?
1. Open saymineapp.com → You can choose between Google, Microsoft or Yahoo account.

2. Create an account → I use my Gmail account.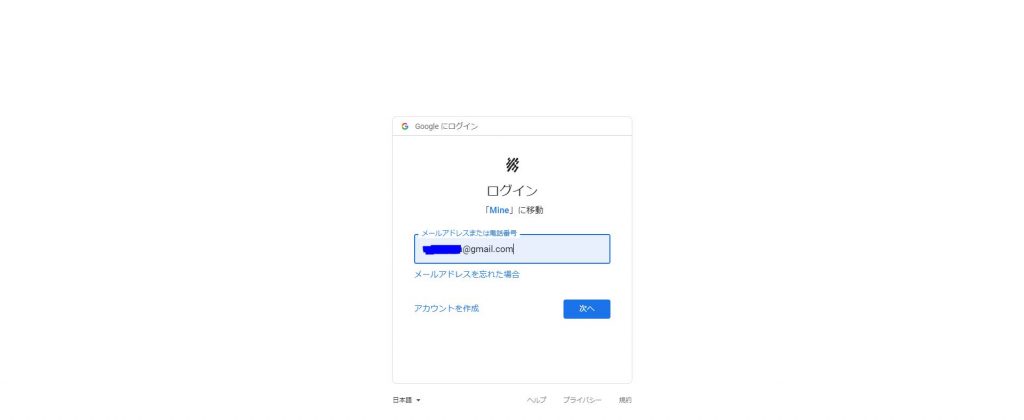 3. First Page – There are three choices to choose Find out, Understand, and Take ownership

4. Click 'Find out' and Next!

5. Fill in your information – First name, Last name, and Country of residence
6. Now they are looking for where my personal data are being held

7. The Big Reveal
My result:
Level of data control:

LOW

(Oh no!)
Companies holding my data: 29
Out of the 29:
6 have my financial data
13 have my identity data
7 have my online behavior data
1 have my social network data
What you can see with Mine:
What organizations have your data
What kind of data you are sharing with the organization
When did you joined
How often you use the website
Industry breach potential
Risk of data exposure
8. Take an action – After discovering that my data privacy is a disaster, I decided to take an action on this website I could not recall when I signed up for called 'Zipeventapp'. Click Reclaim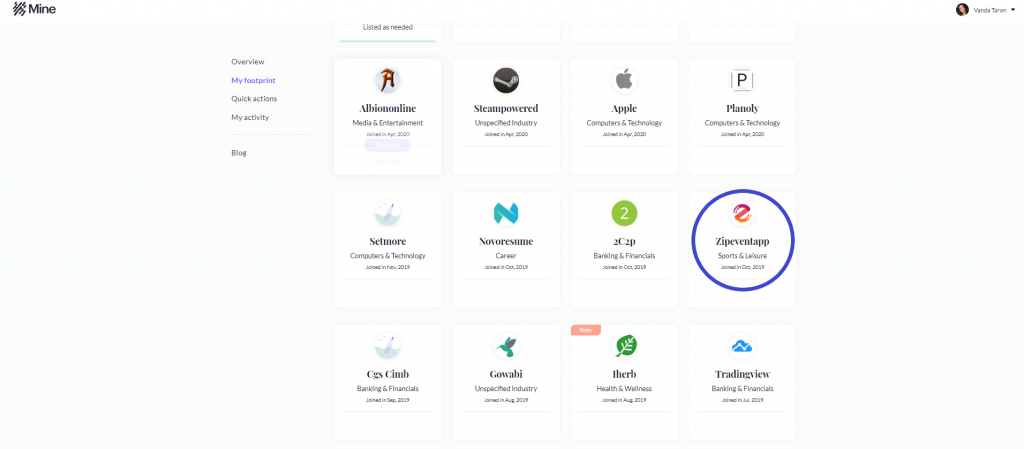 9. Send an 'Right to erasure' email to the organization with Mine *In this step you must give Mine the control access to your account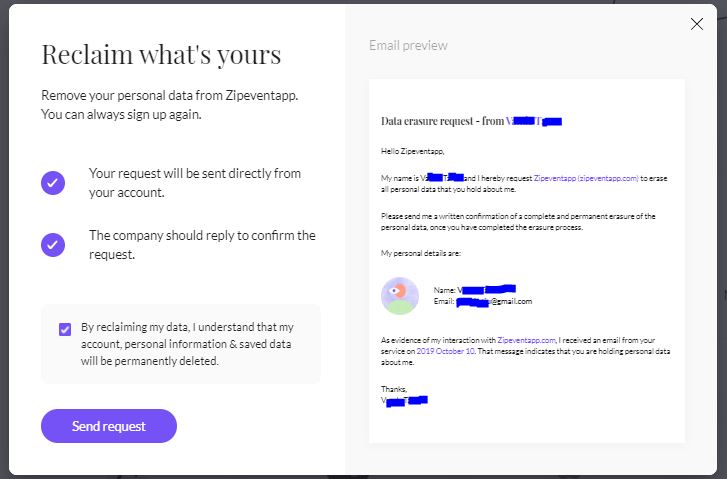 [Left: Agreement to let Mine sent an email, Right: How the email looks like]
10. Send the email and wait for reply!

Review from the author:
First, I like how easy and fast the platform works. Every function takes place within the site – from registration to take action. It only took about 1 minute for the data to come in and within 5 minutes for me to take the first action. I did not experience any difficulty during the whole process.
However, I also have a few concerns about whether any organization would respond to the 'Right to erasure' email and whether my digital footprint will lessen. The reason behind this is because I do not think I can erase most of my OLDER digital footprint. At the moment, I am more aware about data privacy and signing up to unsecured sites but my younger self was not. The 13-year old me has already bombarded the internet with our personal data for up to 10 years long. Looking back, I surely did register to many shady websites with my first email ever – a Hotmail (which I do not remember the password anymore). And after that Hotmail, I did have more than 10 emails I currently do not have access to – Yahoo, tons of Gmails, MSN, Outlook.
In other words, this Gmail only accounts for about 3 years of my life. But what happened to the data I gave out 10 years ago and do not have access to anymore? Although I do not have an answer for that, it is also a very personal issue since it rooted from my lack of responsibility and knowledge about data privacy and its potential harm before adulthood.
Overall, I rate 7/10 for Mine's mission and its platform. Finally, I think that awareness about data privacy and data protection is very important – especially to the younger generation. We constantly upload and register our data on the Internet without considering the consequences. Let us not forget that once something is uploaded publicly online, it is almost near impossible to completely erase its trace.
Conclusion
Due to the huge rise in internet usage, data privacy and protection awareness became an important topic for our generation.
Mine is a fresh Israel start-up platform that aims to give users 'data ownership'.
I gave 7/10 for the experience with saymineapp.com.
---